Topshop MOTO Aztec B&W Hotpants
Tagged W25/UK6; fits true
BNWT
$40 mailed
Topshop MOTO Aztec Neon Embriodery Hotpants/Shorts
Tagged W25/UK6
BNWT
$40 mailed
Boy London All-over Printed Skirt
$20 mailed
BNWT
Fits UK6-10 due to stretchable waistband
Forever21 Letterman Baseball Sleeveless Vest (Burgundy)
$28 mailed
BNWT
Tagged S
Fits UK6 - Small UK10
Forever21 Ethnic Fringe Drape Cardigan (Oatmeal)
$22 mailed
Tagged Size S but fits all sizes
Worn twice lightly
Forever21 Boyfriend Varsity Cardigan
Tagged L
Fits all sizes
Worn twice
$20 mailed
TheCultLabel's Moonlit Unicorn Pullover
$40 mailed
Amazing pullover sweater top! Great to slip on for slightly colder weather as well. The front features the unicorn design on semi sheer chiffon over the pullover. It also has terry fabric lined on the inside for extra comfort, with a little zipper at the back.

Details:
Approx 27 " length, 19" across
Best fits a UK 6 to 12
Love Moshcino Belt (Non-authentic/Inspired)
$40 mailed
BNWT
Not worn before
Seen on many fashion bloggers and LookBook-ers!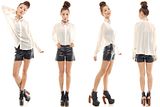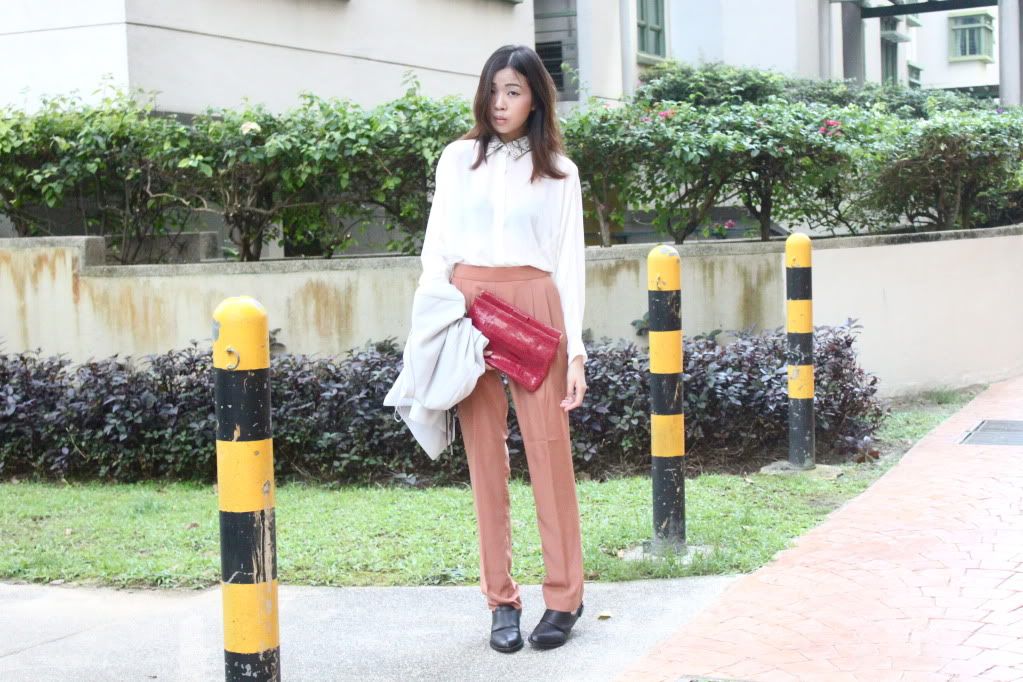 Snakeskin Printed Collar Blouse
$22 mailed
Fits UK6-12
Worn once
Abercrombie and Fitch "Dawn" Baseball Cardigan
$60 mailed
Tagged XS.
Bought at $139SGD at the local A&F outlet.
60% cotton/35% nylon/5% angora
Supersoft, classic v-neck cardigan with button closure, varsity logo applique, vintage style stripes at left sleeve, front patch pockets, finely ribbed trims, interior neck taping, classic fit, imported
Worn thrice. Slight furrings.
Condition: 8/10
Tia Studded Bralet
$30 mailed
FROM: ISCREWEDYOURBOYFRIEND.COM
Marc by Marc Jacobs Tie-Dye Tote Bag
BNWT/Used once lightly
$60 mailed
Topshop Navy Stripes Drawstring Crop Top
Tagged UK6, fits UK6-8/10
BNWT
$16 mailed
Forever21 Chiffon Maxi Skirt
Tagged M, fits true
$20 mailed
I'm UK6-small UK8 and the waistband is slightly loose for me! Problem can be rectified with a belt if you're of my size but I am lazy to wear belts haha.
Topshop Leigh Skinny Jeans
Super Soft Skinny Jeans!
In Black, BNWT, fits 25"/UK6.
Tagged UK6/25"
$40 mailed
(IT'S A STEALLLLLLL)
Topshop Heartbeat City Crop Top
$20 mailed
BNWT
Tagged UK8, fits uK6-10!
ZARA Hearts All Over Shorts
$25 mailed
BNWT
RTP was $59.90 ):
Tagged MEX 24, fits 24" to 26"



Topshop I HEART NYC Studs Muscle Tank
$20 mailed
Worn twice lightly.




Rainbow Tie-Dye Guess CutOffs
$85SGD
Got it for $75USD
-Gorgeous VIBRANT rainbow tie dyed denim
-Tons of slashed frayed holes
-Frayed cut off hems
-Zip fly


MEASUREMENTS
Size on tag: 27
Estimated size: SMALL

---measurements taken across the front, lying flat---

Waist: 13 3/4"
Hips: 17 3/4"
Length: 10"
Rise: 11 3/4"
Inseam: 2 1/2"

Material: cotton denim
Label: Guess
Condition: intentional holes & fraying but otherwise great!
Topshop's Knitted Hearts Cardigan
In Off-white/Cream & Navy Blue Hearts
Knitted off white cardigan with all over navy heart embroidery.
Tagged UK 6; will fit UK6-small UK10
$30SGD (retailed for SGD$89.00)
BRAND NEW WITH TAG
IT'S A STEALLLLLLL
Topshop's Bow Back Bodycon in Pale Pink!
Tagged UK6; will fit up to a small UK8
$15
WORN ONCE
UNIF Hol(e)y Shi(r)t
Tagged XS but it's a loose-cut; fits UK6-10
Bought from Urban Outfitters for $69.00USD


TheScarletRoom Chiffon Toga Tunic
The Scarlet Room Safari Shorts (Black)
Tagged XS, fits 24-26" waist
$15 mailed
Are you a Nasty Gal? Let the whole world know with this adorable black cotton canvas tote featuring a neon salmon print at front! Perfect for stashing anything and everything!
Topshop Baseball Jacket
$80 mailed
$75 with immediate payment & meet-up


PENDING AT $80,
E-MAIL ONLY IF YOU'RE WILLING TO BID HIGHER!
Worn thrice.
Tagged UK12; Fits slightly oversized on UK6; but otherwise, it fits well on UK6-12 :)
Cheap Monday Carolina Tee
BNIB, Tagged XS, fits UK6-10
$40 mailed
SOLD


Christopher Kane for Topshop Tote
(AUTHENTIC)
Used once lightly.
$38 MAILED
$35 with immediate payment & meet-up
Cheap Monday Nomi Tank
$38 mailed
$35 with immediate payment/meet-up
Worn twice, condition is still perfect.
From: SHOPNASTYGAL.COM
Oversized white tank featuring an embroidered black Cheap Monday logo. Deep scoop neckline and armholes. Looks rad paired with cutoffs and combat boots! By Cheap Monday.
Tagged XS, but fits UK6-10 comfortably
Unless otherwise stated, text me at 97891348/e-mail me at ohmyshermin@hotmail.com
YES MEET-UPS (ONLY TO MY CONVENIENCE - Dover MRT)
YES SELF-COLLECTION (BUKIT PURMEI)
YES NEGO (But don't go too far!)

All images' credits go to their original owners unless otherwise stated :)

xx